#234
Re: Mafia XLV: Misdirection - R2 Ends 5:00pm GMT 7/17
Isolate
HATER wrote:
JTc wrote: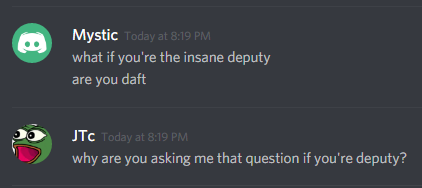 GOTTEM
Now, what am I?
I dont believe JTc. He claims that he peeked Mystic r1 and he found out he was Crime Boss, yet he didn't speak about it to anyone. He fake claimed last game too, he never claims villager. He always claims a power role which is smart but it gets him in a lot of trouble.
My theory is that JTc just randomly picked Mystic round 1 after HATER, he would claim that he peeked the person whom he voted against round 1 and round 2 too, especially after claiming that he is deputy, because then it would make sense to people. He claimed to have peeked me second round which he had posted publicly which if he is a deputy proves me to be a villager, but if he isn't then it was just to make me go with whatever he says and make me believe the Mystic theory. He would totally pick me because I am the less experienced out of all players thinking that I wouldn't notice.
OR JUST...
I AM OVERTHINKING IT AND THIS IS ALL FALSE.
Now when it comes to me, I am a villager. Now you can lynch me, not a problem since you have HATER going against me and Emziek who are the most experienced and trusted players by everyone. I will admit, there is a bit of fishiness to me and there is also rhetoric problems
maybe I should study English more
back to the point, there is a very slim chance that I am mafia.
I am not trying to convince anyone of anything, each of you had a mind which you can use.
Lynch me and see what happens.
For now...
My move will be...
[Vote JTc]
Code:
JTc - 2 - Mystic, Romeo
Mystic - 1 - JTc
Romeo - 2 - HATER, Emziek
No vote - 1 - Emziek, HATER, Freddy, The0Dominant, JTc, Mystic.